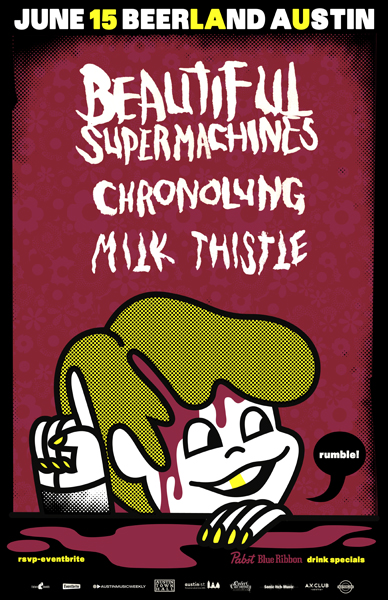 The June edition of our free, monthly local show is going down at Beerland tonight.
On tap for this one is a great lineup that includes
Beautiful Supermachines
, Chronolung (
fresh off their opening slot for The Memorials)
, and Milk Thistle. Come out and join us for some free, live, local music on Red River tonight. Doors are at 9pm. To find out more about the bands or simply get more info on The Rumble: Austin, click over to
Facebook
or
therumbletour.com
.
THE RUMBLE: AUSTIN @ BEERLAND - JUNE 15TH - FREE!
Featuring Beautiful Supermachines, Chronolung & Milk Thistle
BEAUTIFUL SUPERMACHINES
Led by the masterful David Williams (The Vomit Pigs, Decadent Dub Team, The Jungle Brothers), BEAUTIFUL SUPERMACHINES's,
Shut Up
(Chicken Ranch Records) was released to rave reviews in 2009 and no
w their back to showcase new material from their forthcoming second album. Lush and layered instrumentation met with dramatic pop flourishes and you have the epic sound of the BEAUTIFUL SUPERMACHINES

"The group's debut LP, Shut Up, is a Technicolor mélange of fuzz-box fireworks and aloof pop hooks layered with a producer's ear for those all-important minor details, and informed by Williams' wildly diverse palette." - The A.V. Club

http://beautifulsupermachines.com/


CHRONOLUNG

This three piece comprised of Collin and Kevin Fish and Ian Grimes, CHRONOLUNG will bring their hard rock to Beerland for the night. These guys dropped their self-titled EP in March, after their stint at SXSW and winning the School of Rock Battle of the Bands at Emo's and recently opened for The Memorials.

"Blistering rock met with thrashing metal riffs that has taken Austin by surprise" - Future Sounds


MILK THISTLE
Called a "sophisticated indie rock group" by our friends at the Austinist, MILK THISTLE'S Dream Blood EP has been on heavy rotation around the FS offices for a while. This quartet take what we love about The Walkmen, pounding bass lines and aching vocals that give Hamilton Leithauser a run for his money.

"They've got a great driving sound that hits straight in your chest with heavy bass and powerful vocals to boot." - Austin Town Hall

http://www.milkthistleatx.bandcamp.com/
THE RUMBLE AUSTIN is brought to you by FUTURE SOUNDS, WATERLOO RECORDS, THE ONION AV CLUB, THE AUSTINST, AUSTIN TOWN HALL, SONIC ITCH MUSIC, COVERT CURIOSITY, AUSTIN MUSIC WEEKLY, PABST BLUE RIBBON and EVENTBRITE.