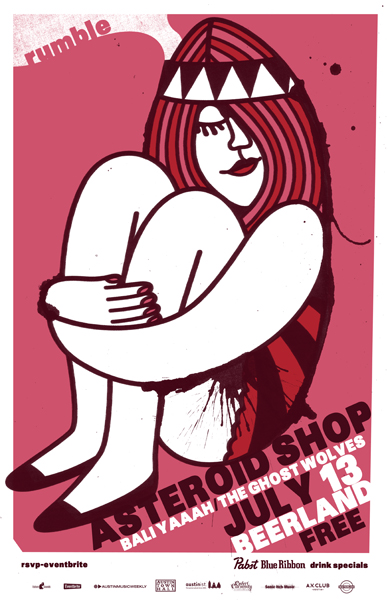 The June edition of our free, monthly local show is going down at Beerland tonight.
On tap for this one is a great lineup that includes the Asteroid Shop, Bali Yaaah, and The Ghost Wolves. Come out and join us for some free, live, local music on Red River tonight. Doors are at 9pm. To find out more about the bands or simply get more info on The Rumble: Austin, click over to
Facebook
or
therumbletour.com
.
THE RUMBLE: AUSTIN @ BEERLAND - JULY 13TH - FREE!
Featuring Asteroid Shop, Bali Yaaah & The Ghost Wolves!!
THE ASTEROID SHOP
Ambient alternative Austin style, led by Eric Brendo, THE ASTEROID SHOP draws from Brendo's experience as the co-founder of Downtown. This local quartet are gearing up for the October 2011 release of th
eir self-titled debut, which showcases their Spiritualized meets MBV sound with tracks like "Dandelion" and "Ashes."

http://www.theasteroidshop​.com/

BALI YAAAH

Swirly 60's psych mixed with classic 80's synth pop that some describe as the love child of Depeche Mode and Velvet Underground, BALI YAAAH fuse fuzzy organs and drum machines with with echoey vocals to develop their dark and seductive new wave influenced pop ala Ariel Pink. These guys just released their debut EP, Never Early Always last month and have opened for Wild Nothing and Abe Vigoda.

"The result is a seductive, agitated and strangely danceable sound, which you can imagine sifting through in a dark, crowded room filled with fog machines in some god-foresaken locale." - The Austinist

http://baliyaaah.bandcamp.​com/

THE GHOST WOLVES

This duo comprised of Carley Wolf and Jonathan Konya, are prepping to drop their debut release this summer and harness the moody blues with a tough rock edge ala The Black Keys and The White Stripes. Imagine Detla spook blues mixed with thrashing 60's garage riffs and tinges of glam rock, that fans are calling a "blues/rock explosion."

"Haunting and daunting, Ghost Wolves is a band devoid of time. The two man wrecking crew looks and sounds just as in place today as they would have fifty years ago..." - Austin Music Weekly

http://www.theghostwolves.​com/
THE RUMBLE AUSTIN is brought to you by FUTURE SOUNDS, WATERLOO RECORDS, THE ONION AV CLUB, THE AUSTINST, AUSTIN TOWN HALL, SONIC ITCH MUSIC, COVERT CURIOSITY, AUSTIN MUSIC WEEKLY, PABST BLUE RIBBON and EVENTBRITE.